Today there are more options to getting your book published than ever. Figuring out which route is best for you is a lot like a Choose Your Own Adventure story: no author travels the same path, and there are as many roads to publication as there are writers. Whether your goal is to pitch your book to a publisher, acquire an agent, or self-publish (digitally or conventionally), we want to help you find the route that best suits you and your writing, so we've designed this writers' contest to do just that.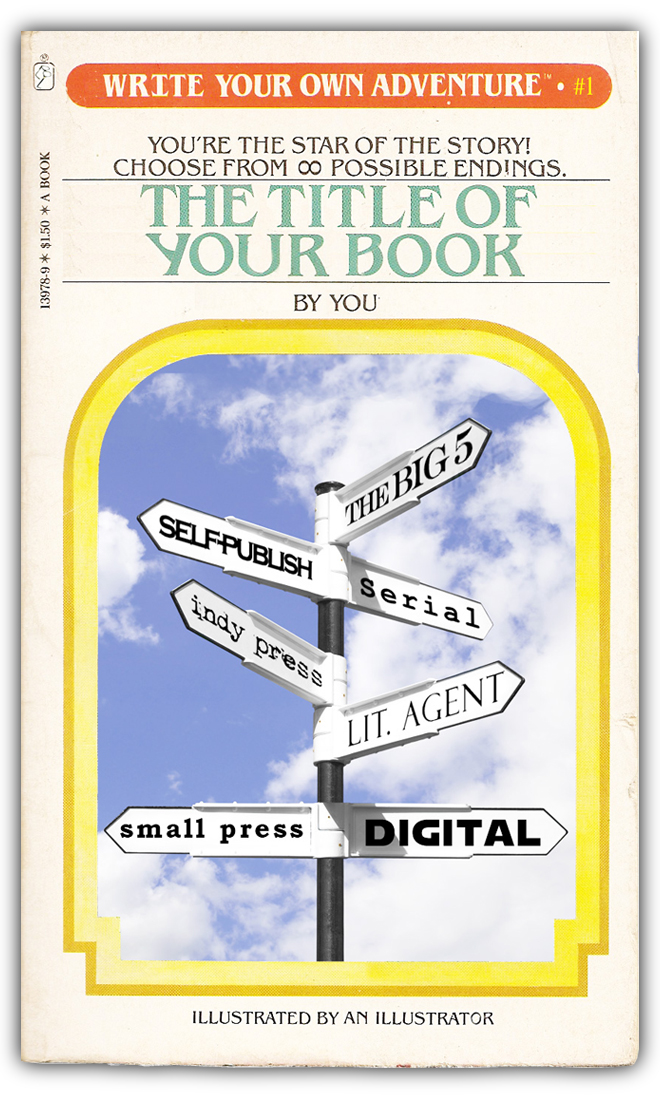 Here's How It Works
You fill out our brief 10-question survey about you and your book (see below). In this questionnaire, you'll be asked about the basics of your book and what path you're hoping to travel to publication. Then we ask for a 25-page sample. That's it.
Based on your answers and sample material, we'll award three writers with a professional consultation tailored to each individual that will help equip each of them with the editorial tools they'll need on their quest to finding a publisher, obtaining an agent, or self-publishing. We'll also be giving away books from our title list to runners-up.
Interested in taking your next literary leap? Here are the rules and details:
The contest begins March 1st and closes March 31st. One entry per person.
Copy and paste the questionnaire into your 20- to 25-page sample, fill it out, and email it all, preferably as a separate attachment (double-spaced, 12 pt Times New Roman or Cambria), to us at contest@cogitatestudios.com. Type "Cogitate WYOA Contest" in the subject line.
Our winners will be announced on April 13th on CogitateStudios.com.
Honorable mentions will receive a choice of one book from any of the books on our title list.
Awesome answers, editorial insights, and interesting experiences from contest participants will be posted periodically on CogitateStudios.com, Cogitate Studios on Facebook, and our respective Twitter feeds (@editorStet and @cogitweeter).
Follow our Twitter #WYOA hashtag and Facebook for updates on the contest and more quick tips and strategies on how to navigate the different routes of the publishing terrain on writer's quest for the Holy Grail: publication.
Questionnaire
1. What is the title, word count, and genre of your book?
2. Is your goal for this piece to:
a) Find a publisher
b) Pitch an agent
c) Self-publish
d) Other (Please elaborate)
3. What stage of the book-publishing process are you in? Are you:
a)     Still writing and tweaking
b)     Finished but need professional editing
c)     Pitching to agents or publishing houses
d)     Ready to typeset for publication
e)     Other (Please elaborate)
4. Describe your book in one or two sentences.
5. How do you remedy writer's block?
6. Now pretend your book has already been published. What review or endorsement would grace the cover and who would be its author?
7. Keep looking into the future, please; if your book were on bookshelves today, what would be its one- to two-paragraph description on the back cover?
8. Describe your strengths and weaknesses as a writer.
9. Do you have any of the following:
a)     Website
b)     Blog
c)     Twitter
d)     Book proposal
e)     Query letter
f)      Book club membership
g)     Writer's group membership
h)     Shirt with a famous book cover or favorite author on it
i)       Marketing swag for your book (bookmarks, business cards, book trailer, etc.)
10. Have you had any experience with the publishing industry? For example, have you had your work professionally edited or have you published before? (Please elaborate if yes.)
11. Do you have a burning question about publishing houses, agents, or self-publishing?
Thank you for filling out the questionnaire. Please know that although we'll be using some answers from participants for blog material, we of course won't be divulging any proprietary information. We're just interested in learning where people are on their journeys, and helping them get there.
Thanks for participating and best of luck to you on your publication adventure!