It seems like there's a lot of name-calling going on in the publishing industry today. Publishers, agents, and self-publishing enthusiasts are at odds, touting the benefits of their own services while discounting the others. Who should writers trust when seeking publication? The answer is about as complicated as the publishing industry itself. There is no right way to be published, but certain methods work better for various authors and each path towards publication has its own advantages and disadvantages. It's time to put some nasty rumors about publishing houses, agents, and self-publishing to rest.
Myth #1: Publishers rip off authors
Many advocates of self-publishing believe that publishing houses are money-hungry and disconnected from authors and readers. J. A. Konrath, a fiction writer whose books have been in the Kindle Top 100 bestselling e-books, claims that publishers "screw authors" by denying them the royalties they deserve, assuming too much control over their work, and inadequately editing, marketing, publicizing their books. Although Konrath has had experience with publishing houses (Hyperion published his Jack Daniels thriller series), his low opinion of publishers is biased. Unlike many self-published authors, Konrath has earned hundreds of thousands of dollars from selling his own books. He has an already-established following of readers, many of whom discovered him when his Jack Daniels series was published. Konrath also hires out the editing and designing of his books to freelancers. Many writers do not have the resources and experience that Konrath does.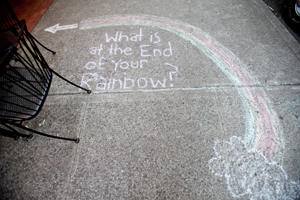 Even the most successful don't; after making millions by self-publishing, Amazon superstar Amanda Hocking recently signed a book deal with St. Martin's Press. While self-publishing can and does allow some authors to earn more than those who work with publishers, writers who publish traditionally get the benefit of working with professional editors, designers, and marketing experts who have experience handling both the creative and financial aspects of producing books. Publishers rely on authors, and many are dedicated to treating writers well, says Jeremy Greenfield, editorial director of Digital Book World.
Myth #2: Agents aren't relevant
With the popularity of self-publishing increasing exponentially, many people wonder if literary agents will become extinct. Some authors complain that literary agents don't return their calls or, more importantly, don't sell their books, so why should writers seek their services? The truth is that working with an agent is a risk-free investment for authors who want to be published traditionally. An agent's primary concern is to improve a manuscript's chances of being acquired by a publishing house. Agents work for authors by negotiating deals with publishing houses and receive a fixed return of 15 percent if the manuscript is acquired. Agents handle the business side of writing; a facet of publishing that bewilders many authors. They can decipher the legal and financial jargon in contracts so that authors can secure the best deal possible. Most importantly, agents are the most tangible form of human contact that many authors experience in the publishing industry. Authors often form long-lasting relationships with their literary agents.
Together, agents and writers share the ups and downs of publishing. In the midst of the publishing industry's digital revolution, agents are more relevant than ever in helping writers get their voices heard.
Myth # 3: Self-publishing is just a fad
Those who are reluctant to embrace self-publishing and the digital revolution claim that these methods of publishing are fads that will soon be forgotten. Many consider e-publishing to be a bubble: quick to both rise and pop. Self-publishing is no ordinary bubble, however; it continues to swell and isn't likely to pop anytime soon. In 2009, a little over 764,000 self-published books were produced while more than 288,000 titles were published traditionally, and the numbers continue to rise.
There are more options and tools than ever before for self-published authors every skill level. With services like Smashwords, Lulu, and CreateSpace, writers can produce, print, and distribute books from home, and more tools for self-published authors are constantly being developed. Companies like Amazon, Barnes & Noble, and Apple have all embraced the digital revolution as well by creating services for self-published authors and their readers. If other multimedia conglomerates and booksellers want to stay relevant and accommodate the millions of readers that use digital reading devices and support self-published writers, they must also follow suit. The question that publishers, authors, and readers must ask is not will digital self-publishing last, but how will we adapt to it.
Other references:
Image courtesy of Lauren B Photography. Thanks, Lauren and Lincoln!